December 2020
Op-ed by Aaron Leopold, CEO of AMDA and Chairperson of MGP Steering Committee, blog post by the Mini-Grids Funders Group, selection of relevant reports and updates from the sector.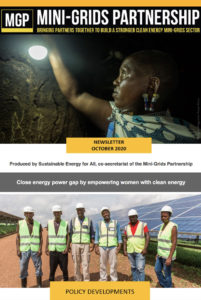 October 2020
Selection of relevant news from the mini-grid sector across Africa and Asia and overview of mini-grids market reports.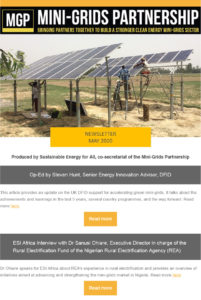 May 2020
Update on UK DFID support to Green Mini-Grids in Africa, latest sector developments in context of COVID-19 and more.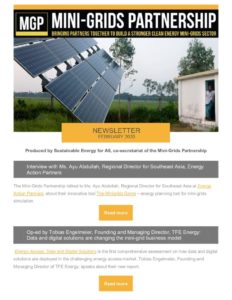 February 2020
Interview with Energy Action Partners, TFE Energy op-ed and more resources.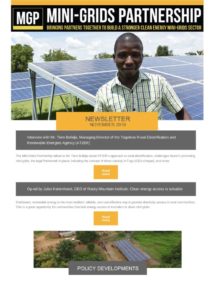 November 2019
Covers interviews with Togolese Rural Electrification and Renewable Energies Agency, Rocky Mountain Institute, and more resources.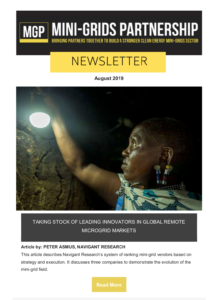 August 2019
Covers innovators in the mini-grids market, an update from a Mini-Grids Partnership meeting, and more resources.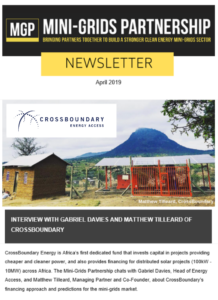 April 2019
Covers an interview with CrossBoundary Energy Access, an annual update on UK DFID work in Green Mini-Grids, and more.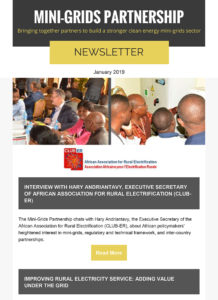 January 2019
Covers an interview with the African Association for Rural Electrification, report on energy access to populations, and more.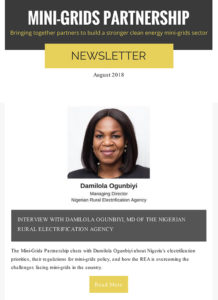 August 2018
Covers an interview with the Managing Director, Nigerian Rural Electrification Agency, the Africa Mini-Grid Developers Association, and more.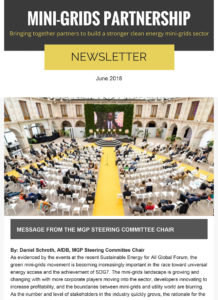 June 2018
Covers an editorial by the MGP Steering Committee Chair, includes the report by Navigant Research on distributed energy resources, and more.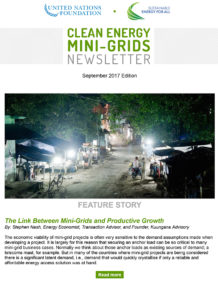 September 2017
Covers analysis of the link between mini-grids and productive growth, the formation of the African Mini-Grid Developers Association (AMDA), and other news.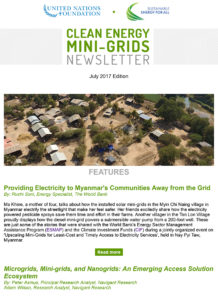 July 2017
Covers a World Bank staffer's account of electricity provision to Myanmar's off-grid communities through mini-grids,and Navigant Research's work on microgrid markets.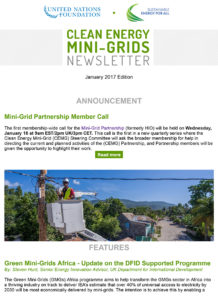 January 2017
Covers details on how to join the Mini-Grid Partnership (formerly HIO), an update on the DFID supported Green Mini-Grids program in Africa and other news.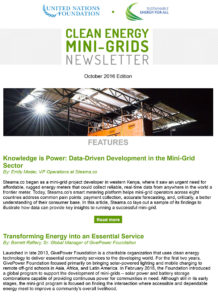 October 2016
Covers SteamaCo's findings on the role of data in running a successful mini-grid, GivePower Foundation's mini-grid program, and other news.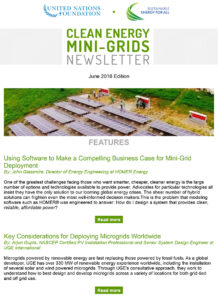 June 2016
Covers the operation of modeling software such as HOMER in making a business case for mini-grid deployment, and other news.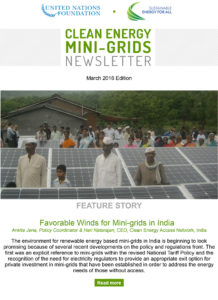 March 2016
Covers the Indian government's policy changes in favor of renewable energy based mini-grids, the case for Solar Nano-Grids in Kenya and other news.