By: Steven Hunt, Senior Energy and Innovation Advisor, DFID.
Twitter and medium: @stevenahunt
With many thanks to colleagues across the DFID network and partners for their inputs and checking of the detail on the programmes below, and none of the blame for any misinterpretations or mistakes I have introduced.
It has been just over a year since the last update on the DFID support to accelerating Green Mini-Grids (GMGs) in Africa. It's a year which has seen some exciting progress as well as some recurring challenges.
I've been lucky enough to visit DFID-supported GMGs in Sierra Leone and Tanzania (click the links for videos from the visits), as part of the Annual Reviews for these programmes. Both visits threw up clearly the extraordinary opportunities of mini-grids to transform rural communities, the pace at which they can be built even in remote places, and the appetite of those communities for the power.  But they also highlighted the ongoing challenges in finding scalable models balancing the interests of the energy users, the mini-grid developers and their financiers, as well as national governments and funders.  The core issues – the tariffs, the selection of sites, and the allocation of rights, responsibilities, risks and rewards – are not new, but still need to be resolved as a complete package, before the sector can be fully unlocked to move at full speed.
The private sector are ever clearer that viability gap funding – as rural electrification has always received, and which in the form of Results-Based Financing (RBF) is a key element of many of our programmes – is needed for the sector to reach marginalised communities. The feedback from private investors is also increasingly clear that if viability gap funding is in place, then private financing can come in to deliver on the bulk of the infrastructure investment need. A joint position paper from active mini-grid investors, recently shared with the Mini-Grids Funders Group, will be published soon. However, many governments remain cautious about the prospect of an array of seemingly high and differing private tariffs across the country, at sites which they may or may not feel sync with their grid extension plans (which may or may not be realistic).  Meanwhile, as donors we also want to support scalable models integrating a clear rationale for the need, minimum level, and additionality of what limited funding we can provide.
There are positive signs of the key elements of those models emerging and more to come on this soon, but for now here is an update on how our support to the mini-grids sector has evolved over the last year, and some of the main learnings which have emerged – starting with our country programmes.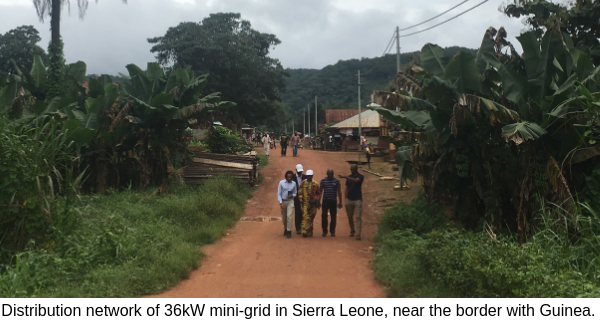 Country Programmes
The Kenya Green Mini Grid Facility, now with additional EU Infrastructure Trust Fund support, opened its second call for proposals in August 2018 for both technical assistance and financial support. The Facility received more than 15 applications, and Due Diligences on project viability commenced in December 2018. Next steps include shortlisting of potential beneficiaries and contract negotiations with the finalists – expected to take place in Q2 2019.  Meanwhile the three leading developers already being supported from the first round (Powerhive, Powergen and RVE.Sol) have pressed ahead on delivery of the expected over 13,000 connections in 4 Kenyan counties.  Powergen received their permits mid 2018 and since then, have progressed with construction of Mini-Grids to electrify 21 villages and connect at least 2300 households.  Powerhive have continued scaling up their existing sites and began construction of new sites, with a target of at least 7600 connections to households and businesses.  RVE Sol successfully leveraged external funding in 2018 with Egis recently investing €2m. They also recently received the ERC tariff approval for 10 mini-grid sites, with an expected outcome of at least 3100 connections.
The GMGs Kenya Facility produced a video about its work here as well as 2 toolkits for Productive Energy Use – on Milling and Ice Making, there can be found here.
Kenya also saw the first two mini-grids being commissioned in the Turkana region under the DFID-funded Results-Based Financing programme managed by EnDev, through Barclays Bank of Kenya. 12 more are in the pipeline from four more firms and should be installed in 2019. The need, and also the difficulty of serving this part of Kenya, is clear – and the use of modular, containerised solutions is encouraging and should provide learnings to the incoming World Bank-funded KOSAP programme also in the north of Kenya.
In Tanzania, progress over the first part of last year was slow, and 3 years after the inception of the programme in 2015, contracts were yet to be finalised with selected mini-grid developers under the REA Results-Based Financing facility funded by UK aid and Sida. In July 2018, the decision was made that DFID would withdraw from the programme in March 2019 after honouring its financial commitments to the first round. Shortly after this, the Tanzanian Rural Energy Agency (REA) signed the contracts with 13 of the developers selected. At the time of the Annual Review in October, the outlook was positive with funds flowing towards $10.8m of RBF payments unlocking $31.4m of matching public and private investment, and work on the ground was moving at pace towards more than 20,000 new household connections in 120 villages.  You can see my video here from several hydro mini-grids in the Southern Highlands of Tanzania serving households and generating major cost savings for local carpentry, timber processing and milling businesses in particular.
However, within only months of that annual review, the Government of Tanzania announced a series of reviews of the regulatory environment for electrification, and in particular the long-standing tariff policy on mini-grids.  If confirmed, the initially proposed changes would have rendered the majority of the supported mini-grids non-viable, and the uncertainty alone halted the existing programme.  Given this threat to the survival of the projects, DFID was unable to disburse its final tranche of funding before the withdrawal date of end of March 2019.  More recent drafts and signals, including around tariffs and approvals processes, have been more positive – and we hope that this bodes well for the delivery of the REA RBF-initiated mini-grids, and the future of the sector in Tanzania.
The Kenya and Tanzania GMGs programme have been hard and important initial learning experiences.  The challenges have been different in both countries, but the common feature has been the lack of a durable public-private settlement regarding how the mini-grids sector should work – particularly in terms of who gets to decide where the mini-grids are, and how much consumers should pay. These issues are to some extent technical, to some extent economic, and to perhaps to the greatest extent, political. A variety of configurations would have been possible in terms of the funding provided, but without a sustainable agreement on the model, both programmes are delivering – but much less and much slower than expected.
This does not mean that mini-grids are slow to deliver – indeed the pace at which mini-grids can be built once the funding and approvals are actually in place is clear in both cases.  And deployment times can be expected to reduce further, along with the costs, the more delivery scale and experience there is and as equipment becomes increasingly modular and flexible.
The other early GMGs programme supported by DFID is the Energy Security and Resource Efficiency in Somaliland (ESRES) programme, which is working in a very different regulatory environment, with a relative absence of regulation, no national utility and a whole series of overlapping informal private mini-grids already in place running on diesel and charging tariffs which would be considered extraordinarily high in other contexts. The lack of an incumbent grid monopoly and "cost-reflective" tariffs as the norm, makes Somaliland an interesting context for mini-grids.  However, as might be expected, this market also has its share of challenges. Semi-formal and locally-connected existing operators supply only those who can afford it, but provide no consumer protections, actively oppose the entry of other players or overlap with them, and are locked in a short term, uncertain and diesel-dependent situation leading to high prices.
The ESRES phase 1 successfully supported the hybridisation of existing mini-grids at 6 sites in 2017 but then had to go back into a procurement for the phase 2, which concluded and work restarted in late 2018. The phase 2 started with a reassessment of the programme's theory of change, how it would address the various overlapping barriers, and what it's offer should be in this unique context.  With this process concluded and a fund structure designed, ESRES is now launching its first call to support established Energy Service Providers (ESPs) in Somaliland, providing grants as a social investor in renewable energy generation capacity, distribution system improvements, and customer connections.  The Launch Event will take place on 24-25 April 2019 in Hargeisa, Somaliland and hopes to attract Somaliland ESPs, local and international equipment and service suppliers, and other interested parties
The other DFID mini-grids country programming started more recently, but that does not mean that they are further behind in terms of delivery.
In Sierra Leone, DFID is supporting the construction of 94 solar mini-grids and developing an enabling regulatory environment to catalyse future investment in the sector. Within the programme's first 12 months the delivery partner, UNOPS, had electrified 54 Community Health Centres with solar generation systems. In the past year, 50 of these 16 to 36 kWp generation systems have been upgraded to mini-grids, ready to distribute the electricity to the surrounding community. A video from my September 2018 visit to 5 of the completed mini-grids waiting for their operators is here.
In parallel, UNOPS supported the Ministry of Energy to successfully complete an international tender for the operations and maintenance of the existing sites and to operate, maintain and co-invest in 44 additional, larger, mini-grids – one of the largest tenders of its kind in Africa. The sites were split into four geographical lots. Off Grid Power (SL Limited) (now a partnership between World Hope International and Powergen) were awarded two lots, and Winch Energy and Energicity were awarded one lot each.  The operators/developers are now in the process of finalizing their debt and equity financing, mobilizing in country and going through the handover on the sites. UNOPS, with technical support from Inensus, is also providing support to Sierra Leone's Energy Regulator to finalise and ratify mini-grid regulations covering this project, but also all future mini-grid investments.
The hybrid nature of the concessions (operating some existing while building some new) creates opportunities for early revenues as well as natural tensions in taking over someone else's installations – but overall this innovative model can be considered at the forefront of progress on the ground to date. DFID Sierra Leone is currently considering options for future support to rural electrification, with a particular focus on stimulating rural economic development through electricity provision, and investment facilitation in additional mini-grids.
In DRC, the Essor Access to Energy Project has also adopted a more planned approach. Essor is supporting the Government of DRC in concessioning 3 pilot mini-grid projects via competitive auction in large off-grid urban centres with 100,000-300,000 inhabitants, requiring a total investment of around $100m. Key milestones over the past year have included the launch of the call for expressions of interest which stimulated the significant private sector and investment interest and several strong expressions of interest to move into the full proposal stage.  In parallel, the financing for the projects has been in preparation and the African Development Bank successfully applied for $20m in concessional financing for the projects from the Green Climate Fund, as well as recently approving $20m more of their own financing towards the projects.  The preparation of those projects will benefit from the support of the AfDB's Sustainable Energy Fund for Africa (SEFA) Trust Fund which DFID contributes to form the central GMGs Africa programme.
As a first-of-its-kind auction in a challenging environment, many auction design features and approaches have had to be created, consulted and adapted after discussion with government, financiers and industry.  The conclusion of this process will be one to watch in the coming year, but the strength of the interest from major DFIs and private financiers, as well as larger industrials and mini-grids players at the pre-bid event in Paris, indicates substantial interest in this kind of at-scale public-private mini-grid proposition.
In Mozambique, the BRILHO programme will support mini-grids alongside household solar and clean cooking. After a longer than hoped procurement period, a management agent was recently appointed and will be entering the start-up phase in the coming month.  This will begin a four-month inception period to determine how best deliver the programme in the current country context.
Working closely with Government of Mozambique Energy Fund (FUNAE), DFID is supporting prefeasibility studies for off-grid electrification at 30 sites. The studies will determine the demand characteristics, the technology approach, and consider the most appropriate investment model for delivery, operation and maintenance of the off-grids systems. This exercise seeks to co-create with FUNAE and the sector an investment model to attract private sector players, and possible BRILHO recipients.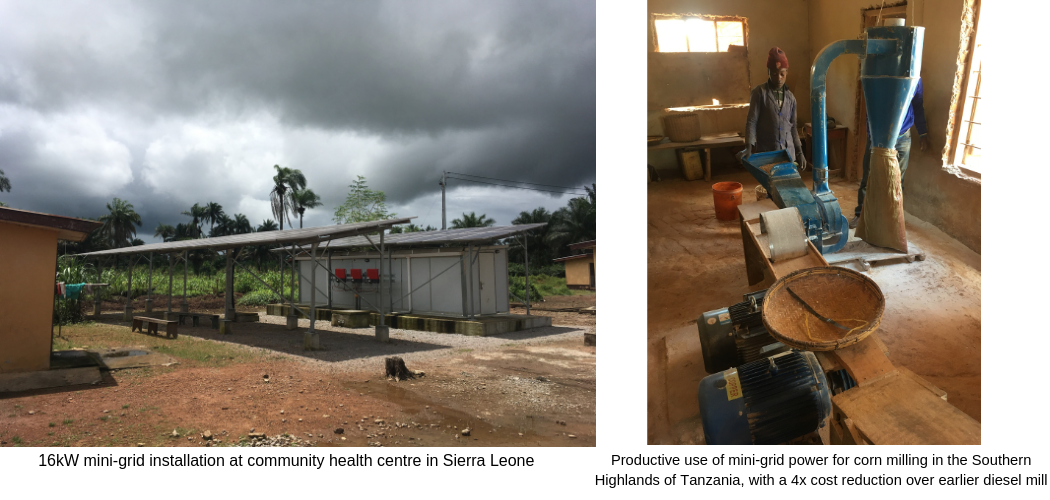 GMGs Africa Regional Facility
In addition to the bilateral programmes led by country offices above, DFID also has a substantial package of support to the sector which acts at a regional and sectoral level.  The main programme in this area, the Green Mini-Grids Africa Regional Facility, will draw to a close after 5 years in November 2019.  However £21m for a follow-on phase was announced by DFID's Minister of State Harriet Baldwin at the Transforming Energy Access: Innovations towards SDG7 Forum in London on the 7th March.  This includes a further £5m of support via the World Bank's Global Mini-Grids Facility at the Energy Sector Management Assistance Programme (ESMAP) and £16m of support via the Sustainable Energy Fund for Africa (SEFA) at the African Development Bank, between now and 2021.
In the past year through our partnership with SEFA, the second phase of the regional GMGs Market Development Programme has been in full flow, building on the learnings from the first phase. The GMG Helpdesk has to date now supported 79 GMG developers in 36 African countries in areas including demand assessment, technical system design, business plan development and financial modelling. Further country packages of policy and technical assistance were approved for DRC.  In a significant expansion of the funding base for Green Mini-Grids in Africa, AfDB not only co-financed $40m with the Green Climate Fund for the mini-grids investments in DRC as noted above, but also raised a further EUR 24.3m from the GCF into a Results-Based Financing for Mini-grids programme in Burkina Faso with a total budget of EUR 53.1m – a programme the GMGs Burkina Faso country package of support helped prepare and which will power 100 villages.  Finally, AfDB also approved $200m of funding to mini-grid roll out in Nigeria co-ordinating closely with the World Bank programme there (see below).
The additional GMGs Africa support via SEFA is expected to support further country packages of policy and market preparation, extension of the Market Development Programme, and new instruments in development by the SEFA team which will start to roll out in 2019.
The ESMAP Global Facility on Mini Grids at the World Bank is currently engaging World Bank Task Team Leaders (TTLs) across 29 active and 8 pipeline mini-grids projects funded in whole or in part by the World Bank. The World Bank's mini grid portfolio represents a commitment of over $600 million in approved investments in 25 countries, with more than $30 million of investment under preparation in 8 countries. The Global Facility on Mini Grids stands on two pillars: upscaling mini grid deployments in World Bank operations and elevating to the global level the knowledge gained from country-level engagement, through events and frontier research. A major milestone in the past year under the first pillar was approval of the World Bank's loan, prepared with Global Facility support, to the government of Nigeria for the largest mini grids programme yet in Africa, with $150m IDA funding approved, $270m private sector investment expected.  A further $200m of co-ordinated matching investment also now approved by the AfDB as noted above. Additional highlights from country-level engagements include operational support to mini grid tenders in Haiti and Ethiopia, and nationally representative surveys of mini grid operators in Cambodia, Myanmar, and Nepal.
Upcoming under the second pillar is a book on key learnings from the first period of DFID support against the 10 building blocks needed to deploy mini grids at scale. This will provide data, analysis and solutions based on research and practice to key issues including access to finance, workable regulations, component costing, productive uses, and geospatial planning. The book is expected to be launched at the next Green Mini-Grids Action Learning Event to be held in Accra, Ghana in the week of the 24th June 2019.
The scale-up funding for ESMAP will focus on increased engagement with Task Team Leaders to ensure approved funding moves as quickly and effectively as possible into results on the ground. This, in turn, will inform additional high-impact, topic-specific knowledge products on the 10 building blocks.
Other Programmes and Partnerships
The remainder of DFID's support to mini-grids is through wider centrally-managed clean energy access policy, innovation or investment programmes which are not focussed on mini-grids, but do have the sector within their scope.
As part of the Transforming Energy Access programme, recently expanded to £100m at the 7th March event mentioned above, DFID invests alongside the Shell Foundation in the off-grid utilities sector.  Significant new partners in the past year have included Nayo Tropical Technologies a leading Nigerian mini-grid developer and EPC contractor, further support for the African Mini-Grid Developers Association (AMDA) to build sector data and improve coherence and coordination on the developer side in the region, and support to the establishment of the CrossBoundary Energy Access Fund, a project equity facility for mini-grids which had a first close of $16m in February.  We have also continued to jointly support the Odyssey Platform, which is now offering the digital platform for the Nigerian REA Mini-Grids programme.  Another new initiative under the Shell Foundation partnership is the Energy Company of the Future (ECOF) which is working directly with Nigerian utilities with the aim to electrify a given concession area at least cost integrating on-grid, mini-grid and household solar solutions.
The Clean Energy Partnerships component of the TEA programme is also supporting a Mini-Grid Cost Reduction Partnership which includes joint funding of cost-reduction pilots with industry via the Mini-Grids Innovation Lab run by Cross Boundary in collaboration with the Rockefeller Foundation.  The Lab has already started experiments in practice with interesting early results, including regarding changes in demand in response to tariff drops.
The Energising Development (EnDev) Results-Based Financing Facility has continued to deliver results and learning in Rwanda in particular where the facility has supported 23 solar DC grids and one hydro mini-grid, and recently commissioned another solar hybrid mini-grid via Absolute Energy with 500 new connections. Four more mini-grid projects are in the immediate pipeline awaiting the necessary approvals in the coming months. The Kenya RBF has also recently commissioned its first 2 mini-grids in the Turkana region, as mentioned above.
An interesting development just starting in Kenya is a new pilot supported by the Frontier Technologies programme which is testing whether electric 3-wheelers/Tuk-Tuks and boda bodas (motorcycle taxis) can integrate into solar mini-grids, providing extra customer income and revenue generation opportunities, and daytime loads integrating storage. Tune in to the Frontier Tech Livestream for results and learnings from this in the coming year, alongside a whole range of other pilots in areas like UAVs/Drones, Blockchain and Internet of Things.
In addition to DFID's grant support, our Returnable or Development Capital Platforms which provide grants and loans are also increasing their engagement with the mini-grids sector. InfraCo Africa, part of the Private Infrastructure Development Group (PIDG), is already an investor in REDAVIA in Tanzania and in Standard Microgrid in Zambia; the company recently convened a meeting of mini-grids developers in Nairobi to deepen their awareness of the sector.  PIDG recently recommitted its support for off-grid solutions through its new five-year strategy. PIDG sees considerable potential for scale here through a strong focus on building portfolios of off-grid projects. The Renewable Energy Performance Platform (REPP), funded by the UK Department for Business Energy and Industrial Strategy (BEIS) international Climate Finance, was recently scaled-up to £148m and expects to include mini-grids further in its remit as it expands.
Beyond individual programmes and facilities, we are also supporting co-ordination in the sector. This includes supporting organization amongst the industry as mentioned above in the support to AMDA, but also supporting the co-ordination between sector funders. DFID are co-chairs with the World Bank and AfDB of the Mini-Grids Funders Group, convening 29 DFIs, funds and philanthropic institutions, which have collectively made in-principle commitments of over $1 billion globally towards developing the mini-grid sector.
Finally, we also support the role of the Mini-Grids Partnership (MGP) in convening and co-ordinating across industry, governments and funders/financiers.  Although perspectives and positions between and across these groups can differ, in the end, if the potential of the sector is unlocked it will be because mutually workable models are agreed between these stakeholders, which then work for communities.  Perhaps this will happen first in a single country which will demonstrate a scalable model for others to copy. Nigeria seems to be in pole position, but other countries could still move quickly. But in a complex emerging market we need more data and more exchange of that data to really understand the trends in what is working.  Platforms like the Mini-Grids Partnership, AMDA and the Club-ER of African Rural Electrification Agencies (also an MGP member) can play a key role in that.
On that, look out for the first State of the Mini-Grids Market Report in the coming year through the Mini-Grids Partnership with DFID and other support.  I think the total number of mini-grids will surprise many people, but I will mainly be looking at the angle of the line…
______________________________________________________________________________________________________________________________________________________________________
For further information on the GMGs Africa initiative and any of the specific programmes or partnerships mentioned above, please contact:
GMGs Kenya – Hosborn Wamukonya H-Wamukonya@dfid.gov.uk, Rita Laibuta laibutar.ext@afd.fr
GMGs Tanzania – Leanne Jones Leanne-Jones@dfid.gov.uk,  Jorgen Eriksson jorgen.eriksson@gov.se
GMGs Africa Regional Facility – Mansoor Ahmad Mansoor-Ahmad@dfid.gov.uk, Joao Duarte Cunha j.cunha@afdb.org, Jon Exel  jexel@worldbank.org
Rural Electrification in Sierra Leone (RESL) – Tom Ratsakatika T-Ratsakatika@dfid.gov.uk, Nick Gardner nickg@unops.org
ESRES Somaliland – Anita Kaushal a-kaushal@dfid.gov.uk, Randall Nottingham randall.nottingham@esres-somaliland.org
Essor DRC – Tom Stevenette t-stevenette@dfid.gov.uk, Chim Chalemera c-chalemera@dfid.gov.uk, Stéphane Woerther swoerther@philae-advisory.com
Brilho Mozambique – Sergio Dista S-Dista@dfid.gov.uk
TIME Partnership with Shell Foundation – Steven Hunt s-hunt@dfid.gov.uk, Emma Miller e.miller@shell.com
Transforming Energy Access (TEA) – Steven Hunt s-hunt@dfid.gov.uk, TEA@carbontrust.com
Results-Based Financing Facility with EnDev – Phil Mann, P-Mann@dfid.gov.uk, Elina Weber elina.weber@giz.de
Renewable Energy Performance Platform (REPP) – Andreas Arvanitakis Andreas.Arvanitakis@beis.gov.uk, Sarah Mills Sarah.Mills@beis.gov.uk, Geoff Sinclair geoff.sinclair@camcocleanenergy.com
General Inquiries – Steven Hunt s-hunt@dfid.gov.uk