By Peter Asmus
Remote microgrids—islands of power not interconnected to a traditional utility grid — are one of the most robust opportunities in the world for the private sector to explore new technologies and business models designed optimize and control distributed energy resources (DER). According to Navigant Research's recently published Microgrid Deployment Tracker 2Q19, some 41% of the total global market for microgrids falls into this category.
This market share should come as no surprise—microgrids were born in off-grid environments. It is only relatively recently that these systems have become vehicles for resilience in industrialized economies plagued by extreme weather events and wildfires that disrupt traditional utility power services.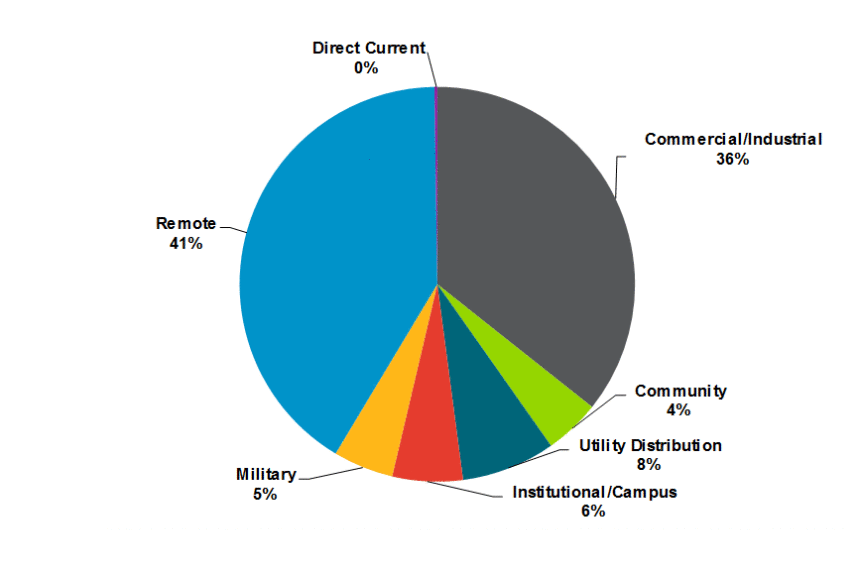 When sizing the remote microgrid market, definitional issues often come into play due to regional dynamics. An updated global market forecast is expected to be published by Navigant Research in 3Q 2019. The Asia Pacific region has emerged as the global leader for microgrid capacity, a region led by remote microgrid segments. Africa is also a major market, though that region shows a great affinity for smaller solar home systems and other energy access projects that Navigant Research does not include in its microgrid project tracking. Nevertheless, it is safe to say that the Asia Pacific, Africa, Middle East, and Latin America markets are all led by remote power applications. Most microgrids in Europe are also remote systems, but they are typically islands not interconnected to the mainland grid. The only regional market largely consisting of grid-tied microgrids is the US, though Alaska is an important exception to this generalization, as detailed in a new white paper Navigant Research codeveloped with the University of Alaska.
Ranking the Leading Remote Microgrid Innovators
The remote microgrid space is broad and deep. Within this market are small energy access projects serving the bottom of the pyramid as well as large industrialized mines. Perhaps the most appealing projects, from a developer perspective, are physical islands because they offer economies of scale and diverse customer loads. enabling more creative load management innovation.
Rather than trying to compare apples to apples, which is difficult to do in the microgrid space given the variety of technologies and types of companies involved, Navigant Research ranked 12 diverse vendors active in the remote microgrid market according to identical and transparent metrics. The metrics captured the essence of strategy versus execution. The resulting scoring of 12 companies was designed to highlight the diversity of companies finding success in this market, with each company offering diverse products and services in differing geographies. Making this ranking even more complex is that many of the larger companies profiled, such as ENGIE, are also investing in smaller companies included in this Leaderboard report.
The metrics are as follows:
Strategy
Vision
Go-to-Market Strategy
Partners
Business Model Innovation
Value Chain Capture
Geographic Reach
Execution
Sales, Marketing, and Distribution
Controls Approach/Provider
System Quality and Reliability
Project Portfolio
Pricing
Staying Power
Each metric may feature a different weighting. A Value Chain Capture metric was included, highlighting how different kinds of companies compare on revenue capture from remote microgrid project development. The qualifying metric to be considered a Leader was that both strategy and execution scores had to be 75 or higher.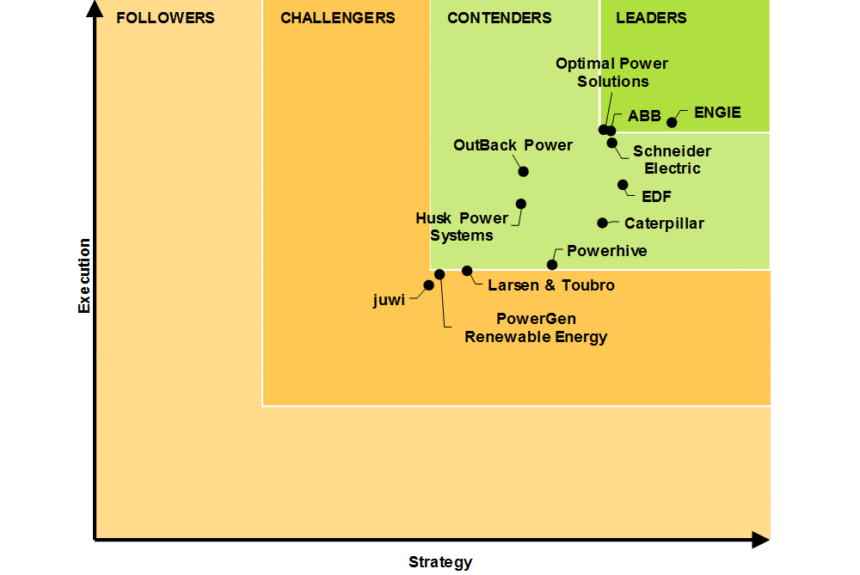 The companies profiled all have interesting stories. The following discussions of three companies help illuminate a compelling narrative about the evolution of the remote microgrid market.
Schneider Electric
Among the most successful of the larger companies active in the microgrid space due to its flexibility in forging creative partnerships, Schneider Electric has traditionally been focused on grid-tied microgrids in the US. While the company's primary focus remains there with its recent joint venture with The Carlyle Group to create AlphaStruxure to deploy large, sophisticated energy as a service (EaaS) microgrids for airports and ports, the company is simultaneously offering new products and services for the remote market.  Here are three remote microgrid examples:
Villaya Collective Solutions: A new containerized solar PV microgrid solution providing a minimum of 10 kW of electricity that can be installed within 30 minutes. The solution is primarily for humanitarian applications, ideally for tropical environments, and includes a hot sodium nickel chloride battery provided by the startup FZSONICK.
Smart microgrid partnership with Arensis: This partnership is focused on developing a blockchain application program interface (API) platform for ENTRADE IO for off-grid project financing for solar plus storage and waste-to-energy microgrids; the partnership's initial focus is project development in Asia and Africa. Perhaps the most noteworthy aspect of this partnership is that it harnesses augmented reality to troubleshoot operations and maintenance issues via mobile devices in the field.
Energy Control Center: Schneider Electric's Energy Control Center (ECC) is yet another approach to modularity with important ramifications for remote microgrids. The ECC is designed to make microgrids a more commercial off-the-shelf proposition with a simplified design, installation, and operation (including spare parts). Under this new approach, the more complicated aspects of microgrid control are moved to the cloud via the EcoStruxure Microgrid Advisor, reducing onsite costs and commissioning time while also providing remote visibility to company experts globally.
OutBack Power
OutBack Power Technologies is a manufacturer of smart inverters, charge controllers, batteries, and other balance-of-system components for renewables-based microgrids. It has a track record of over 18 years of off-grid residential nanogrids in the US, along with major sales channels for remote microgrids in Africa, Asia, the Pacific Islands, South America, Australia, and Europe.
OutBack Power, an EnerSys brand, is the top US brand for remote village power systems and microgrids for kilowatt-scale installations. The company first made an impact with its modular, stackable, and sealed Pure Sine Wave Power Inverters for remote solar PV systems. The company's newest offering is SkyBox, a microgrid in a box, reducing capital and installations costs for solar plus energy storage applications.
What stands out about Outback Power is that it has found a market niche in the US for remote residences, proving that products and services key to achieving energy access can also generate business development in developed economies. With extreme weather events and wildfires threatening many parts of the US, the company is positioned to offer services to this growing market of citizens in both developing and developed world markets seeking resiliency on their own terms.
Powerhive
Berkeley-California-based Powerhive represents a new breed of remote microgrid companies. Its offerings span the entire development process. It covers market feasibility studies, site identification and selection, turnkey pilot program deployments, project design services, customer acquisitions, procurement and logistics, and onsite training. The company offers three primary products to the remote microgrid market:
Honeycomb: A cloud-based technology platform that performs automated microgrid management operations to help streamline account management and payment processing as well as data management and protection. Honeycomb also provides tools to allow operators to optimize performance and maximize revenue via real-time analytics.
Asali: A smart meter offering that can serve as the foundation for billing a small cluster of customers; the offering is linked to Honeycomb servers to allow monitoring and control (and disconnect circuits, if necessary, due to theft or other issues).
SWARM: An acronym for Site Wizard for Analysis, Reconnaissance, and Mapping, this offering allows project developers to remotely identify customers and site locations over broad locations based on geospatial, technical, and financial data. It prioritizes opportunities based on system size and other optimization parameters, lowering overall development costs.
In the summer of 2018, Powerhive announced a partnership with Sun Exchange, a solar micro-leasing marketplace leveraging digital reward tokens for pre-financing of solar projects. The goal of this partnership is to raise $23 million to install an additional 150 solar PV microgrids in Kenya. Powerhive is expanding its services to customers to include internet and ultimately EV services. Among its more unusual endeavors is a poultry program in Kenya to not only build load but to improve the economic profile of its customers, thereby reducing non-payment risk.
Conclusion
The remote microgrid space is arguably the most vibrant segment in terms of modular technology advances and business model innovation. All 12 companies and dozens more are transforming what has traditionally been a major problem (energy access) into an opportunity to allow developing countries to lead on innovation in shifting to the reality that the future of energy is distributed, decentralized, and decarbonized. Remote microgrids represent the past, but they are also pointing the way to the future. With large and small companies all engaged in bringing innovation to this market, the future is bright despite a long list of remaining challenges that prevent this market from meeting its full potential.